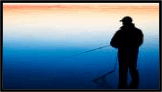 Eccolands Park
Eccolands Park is located on River Road, just south of Hunt Club, and adjacent to the Ottawa Airport. A free launch ramp can be found here, leading you to a small stretch of the Rideau River that is capable of producing big fish.

Muskie rule the roost in these waters, and are more than willing to hit oversized topwaters and bucktails during the heat of summer, and large jerkbaits when fall rolls around. Target 8 to 12-foot flats, as well as the abundant weedlines. Rock and boulders will also hold good numbers of fish.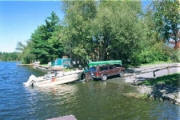 Parking is available on site, as well as washroom facilities, picnic areas and playground equipment for the kids. Shorefishing is best done along the grassy areas in the park, or from one of the two large floating docks.

Spring can be a good time to chase walleye, with jigs and livebait working best. Concentrate on rock shoals at this time, and deep weedlines as the season progresses.

Smallmouth bass, pike, perch, bluegills and sunfish can also be caught here, providing good action on an otherwise quiet section of river.