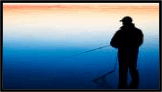 Victoria Island
This beautiful island can be found a short walk from Parliament Hill, and boasts some breathtaking views of the cityscape and Ottawa River. Motorists will need to use the Chaudiere Bridge, while pedestrians can access the island by Portage Bridge or Chaudiere.
Victoria Island, or Turtle Island, is located at the foot of Chaudieres Falls. This location has strong Aboriginal roots, and celebrates this culture all summer with the authentic recreation of an Aboriginal village. During the warm months, visitors can enjoy Aboriginal food, dancing and many other activities.

Walleye and smallmouth bass are the most common catches here, and heavier presentations are needed to work the current areas. Jigs in ½ or ¾ oz. weights, tipped with plastics or minnows will work well for both. If slack water is found, lighten up on the gear.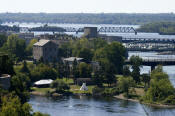 Parking can be found on the island, as well as picnic facilities, washrooms and concession areas. This is a place that the whole family can enjoy, as when the fishing slows, there are many other activities to do. Shore spots abound, and finding a quiet spot to yourself shouldn't be a problem.

Pike can also be caught here, and are best targeted by tossing heavy spoons (such as the 5 of Diamonds) to the current breaks and calmer water. Chartreuse, silver, and red/white are good colours to start with.

Dunking worms for catfish can also provide fun times. A heavy sinker and a glob of worms should get you into the action.